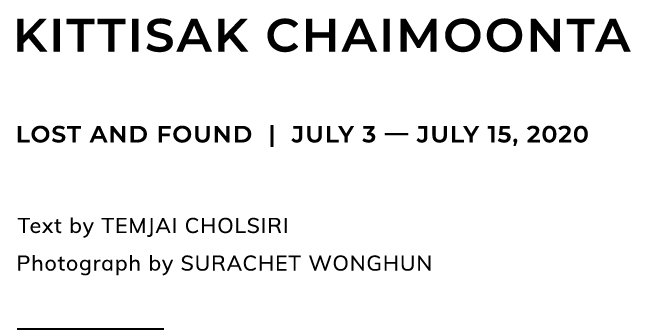 INSPIRED BY THE IDEA OF "HOW TO MAKE WASTE MATERIALS ALIVE AGAIN"
KITTISAK CHAIMOONTA USED HIS EVERYDAY EXPERIENCES AS AN ART CREATOR TO INVESTIGATE AND REDEFINE THOSE MATERIALS. FROM SEEING LOTS OF WASTE PRINTED MATTER SUCH AS MAGAZINES AND PRINTS PRODUCED TO EXCESS FROM THE PRINTING PROCESS, HE GATHERS THOSE PAPERS AND CREATES HIS UNIQUE ART FROM THEM. PAPER-COLLAGE IS EMPLOYED TO RECREATE AND SIMPLIFY FORMS AND PROVIDE NEW MEANING TO THE INTERNAL UNOCCUPIED SPACES.
IN THIS EXHIBITION, MATERIAL SELECTION IS ESSENTIAL FOR CREATIVE PROCESS. WHEN ARTISTS CONSIDER CHOOSING THEIR OWN MATERIALS, THEY HAVE TO UNDERSTAND WEIGHT AND COLOURS. ACKNOWLEDGING WHAT MATERIALS WOULD BEST CONVEY THEIR MESSAGE IS KEY. EXAMPLES WOULD BE MAGAZINES AND PAPERS THAT HAVE BEEN THROUGH PRINTMAKING PROCESS. CREATIVE PROCESS REQUIRES EMOTION, WEIGHT AND COLOURS WHICH WILL BE COMPLETE THROUGH COLLAGE AND DECONSTRUCTION OF FORMS.
" SEEING VALUES IN SURROUNDINGS AND IN EVERYDAY OBJECTS IS LIKE GIVING THEM CHANCE TO SHOW THEIR POTENTIAL. BY PLACING IN THE NEW CONTEXT, THEIR ROLES ARE CHANGED AND THEIR VALUES ARE ENRICHED." 
MR. KITTISAK BELIEVES THAT IN EVERY EMPTY SPACE, THERE IS MEANING WAITING TO BE FOUND. AS WITH OUR FEELINGS, WHEN SOMETHING IS MISSING, A NEW BLANK SPACE IS CREATED WHICH ASSUMES ITS OWN MEANING.
—