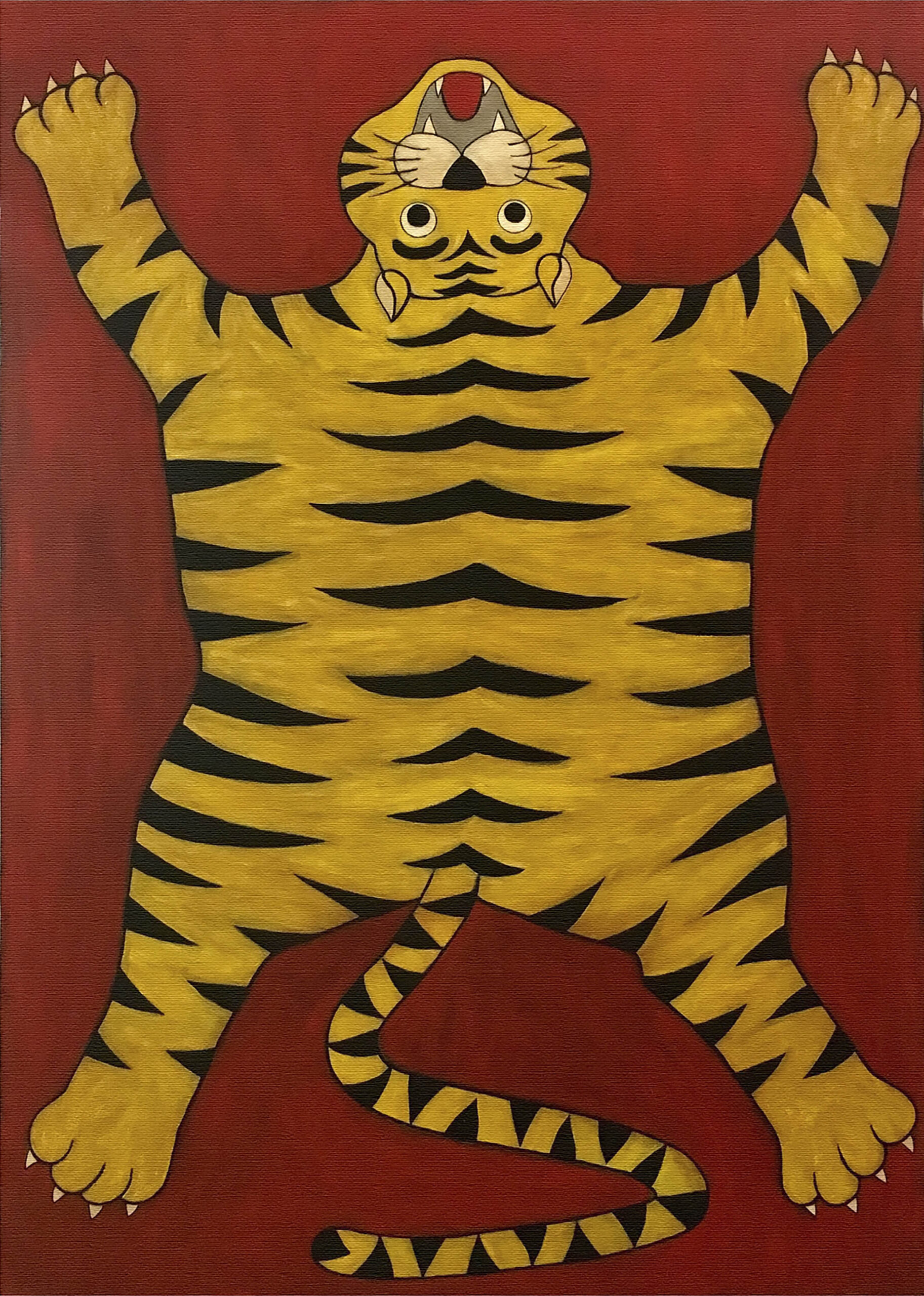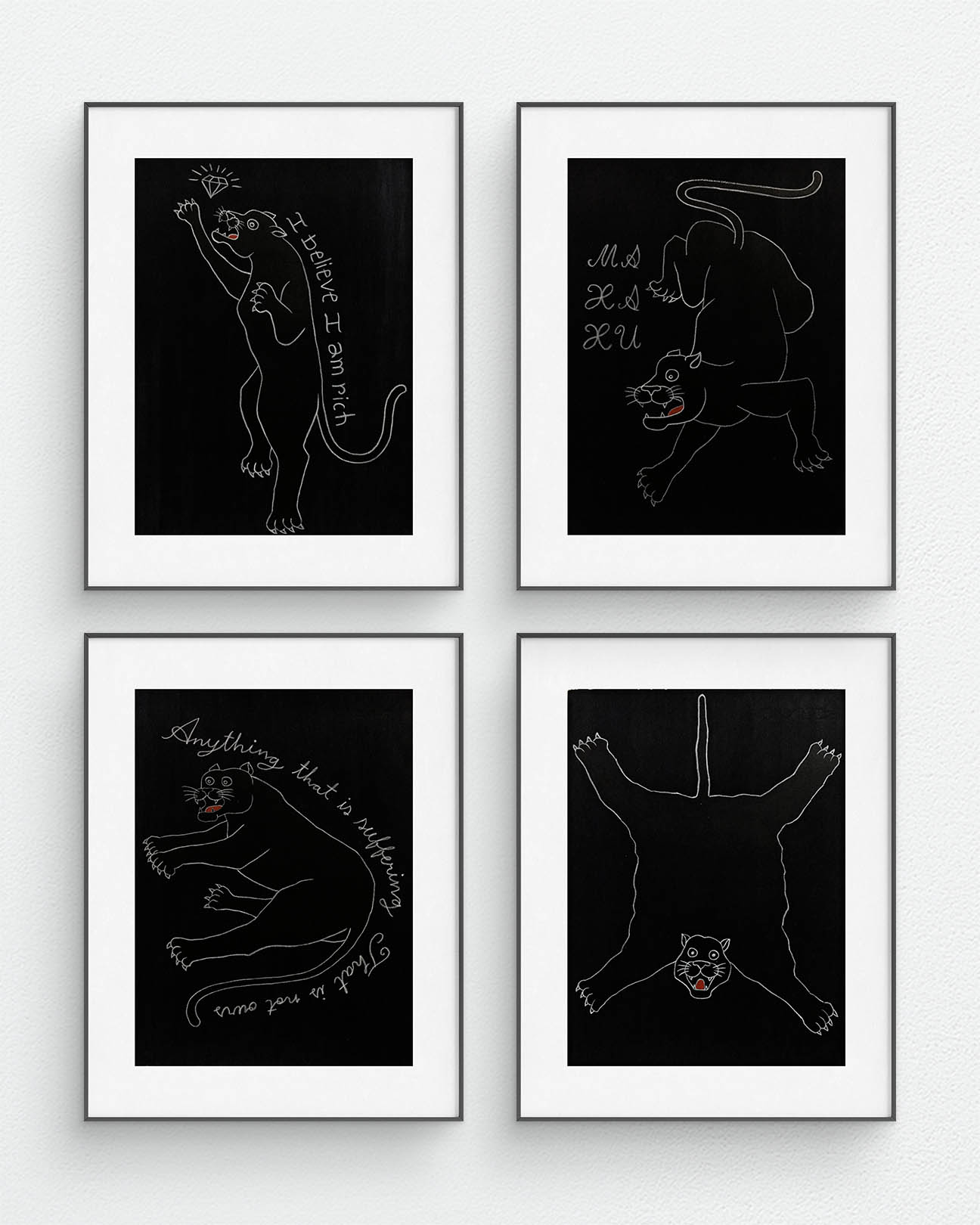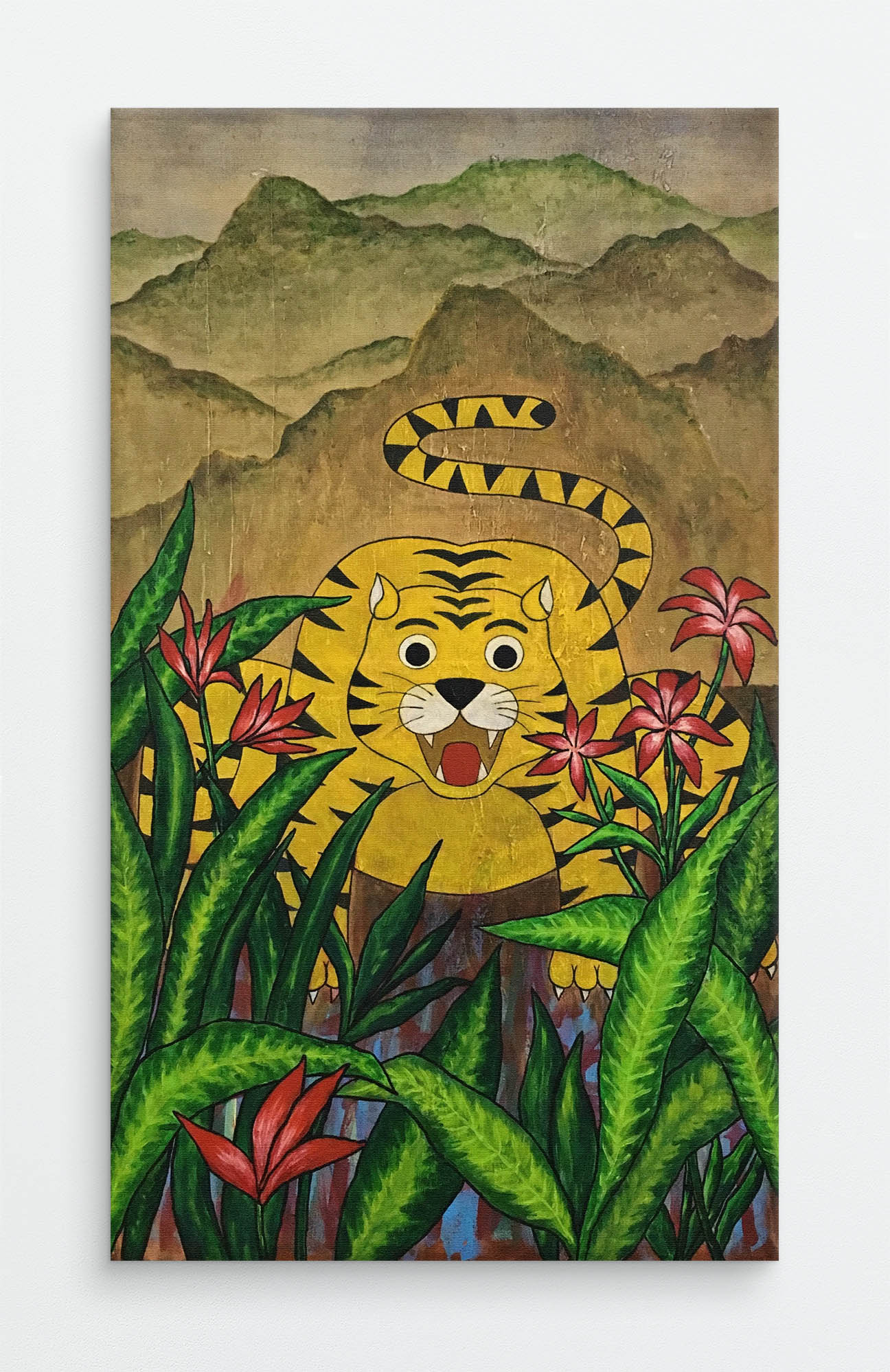 SUTTIPONG VONGSON OR DREAM IS A TALENTED AND GIFTED ARTIST WHO BEGAN MUCH OF HIS CAREER AS A PROFESSIONAL PRINTMAKER AFTER GRADUATING FROM RAJAMANGALA UNIVERSITY WITH A DEGREE IN FINE ART. TEN YEARS LATER, DREAM HAS NOW CONCENTRATED MUCH OF HIS NEW EFFORTS AS A PAINTER, USING MIXED MEDIUMS OF ACRYLIC AND OIL IN HIS LATEST WORK. SHOWCASED IN HIS NEW COLLECTION, "LOOK AT ME," DREAM HAS USED ONE OF HIS FAVORITE SUBJECTS "TIGERS" AS HIS FOCAL POINT, BUT WHY ?
ARTISTS TAKE THEIR EXPERIENCES IN LIFE AND PAINT, WRITE, OR SING ABOUT THEM TO EXPRESS THEIR FEELINGS AND, USUALLY, THOSE VIEWS ARE REFLECTED IN THE ARTIST'S WORK; IT'S VERY FUNDAMENTAL FOR AN ARTIST. WHAT HE SEES AND HEARS AND THINKS ABOUT — ALL PART OF HIS WORLD — SHOW UP IN THE COLORS HE CHOOSES, THE MEDIUM HE USES, AND THE PERSPECTIVES HE SELECTS. ART BECOMES A MEANS OF IMITATING LIFE REGARDLESS OF WHAT GENRE OR FORM THE ARTIST USES. CONSEQUENTLY, THOSE EXPERIENCES ADD FLAVOR TO EVERY BRUSH STROKE OR OUTLINE HE DRAWS.
ADDED TO THEIR OWN LIFE EXPERIENCES AND HISTORICAL CONTEXTS, WE CAN SAY THAT THE ARTIST MAY ALSO ADD THEIR OWN UNIQUE PERSPECTIVE AND TALENT, BUT IT IS ALSO HONEST TO ADMIT ONE'S INFLUENCES. DREAM TELLS US THAT TIGERS WERE AN IMPORTANT SYMBOL FROM HIS CHILDHOOD; FROM THE MYTHS AND STORIES HE HEARD AS A CHILD FROM THAI, BUDDHIST AND HINDU CULTURES TO THE FAIRYTALES THAT OFTEN FASCINATED HIM WHEN HE WAS YOUNG.
HE LEARNED THAT TIGERS WERE ALSO KNOWN AS SPIRIT ANIMALS TO REPRESENT A FIERY SENSE OF WILL, POWER, COURAGE, AND PERSONAL STRENGTH. TIGERS TEACH YOU HOW TO EMBRACE YOUR WILD CURIOSITY, ALL THE WHILE CONNECTING WITH YOUR INNER WARRIOR! BUT TIGERS ALSO HAVE DUALITY IN TERMS OF GLOBAL MEANINGS.
THE PHRASE, " DON'T WAKE A SLEEPING TIGER ", SUMS UP THE DARKER SIDE OF THIS CREATURE. LIFE IS UNPREDICTABLE, AND WHEN THE TIGER WAKES AND STRIKES THE RESULTS ARE SWIFT, SURE AND GENERALLY NOT PLEASANT. SOME RECOGNIZE TIGERS AND DRAGONS AS POWERFUL SYMBOLS REPRESENTING THE BALANCED FORCES OF YIN AND YANG. IN TANTRIC BUDDHISM, TIGER SKINS REPRESENT THE TRANSFORMATION OF ANGER INTO WISDOM AND INSIGHT AND IS THOUGHT TO PROTECT THE MEDITATOR FROM OUTSIDE HARM OR SPIRITUAL INTERFERENCE. SUCH MESSAGES FILLED THE YOUNG BOY WITH WONDER AND AWE.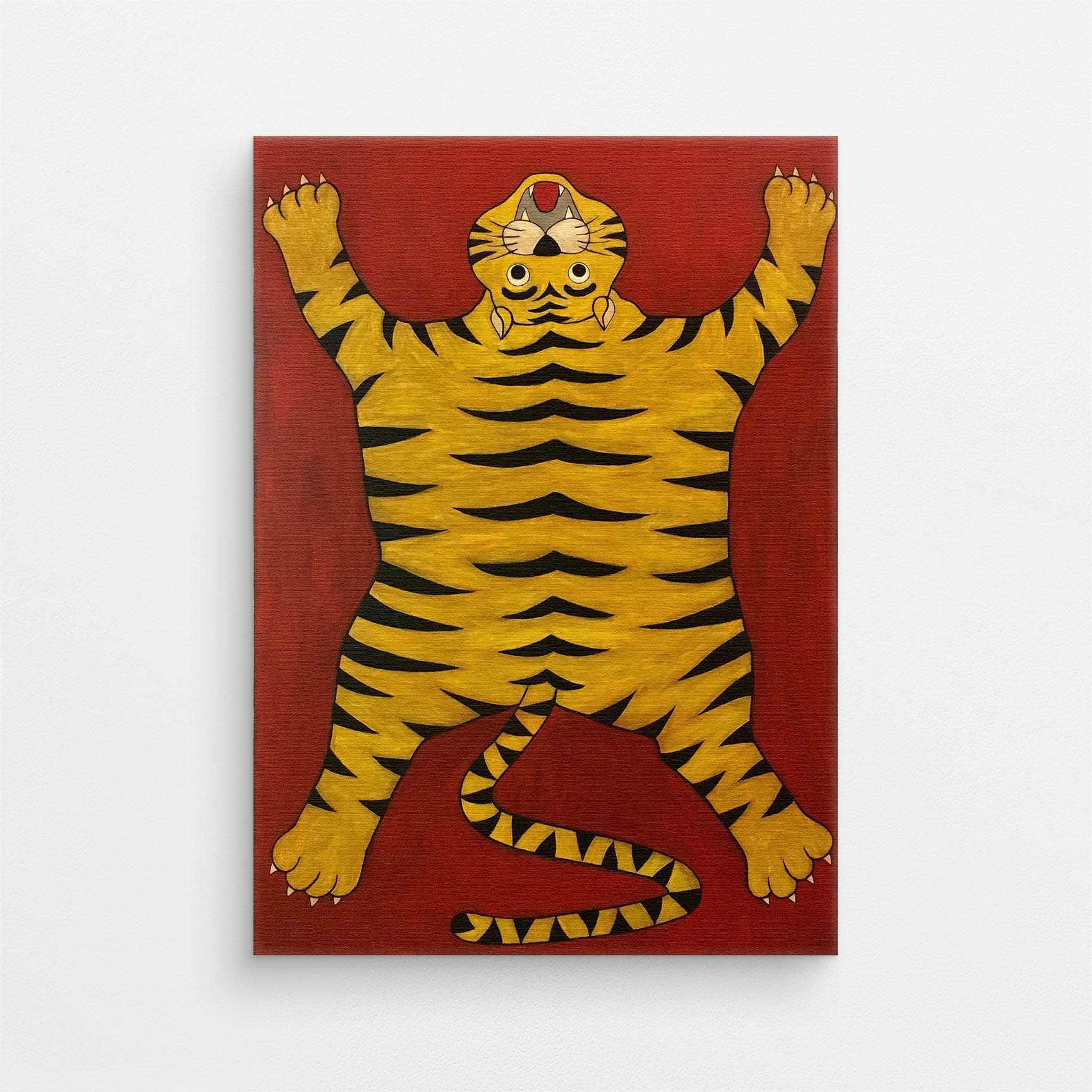 YEARS LATER, AS A YOUNG MAN, DREAM WAS OFTEN CALLED "TIGER" BY MANY WHO KNEW HIM REFLECTING HIS STRENGTH OF CHARACTER AND HIS FIERCE SUCCESS WITH THE LADIES, BUT DREAM HAS NOW DECIDED TO REPRESENT A DIFFERENT SIDE, A MORE REALISTIC, BUT SUBDUED SIDE OF HIMSELF AS WELL AS THAT OF HIS SPIRITUAL CHARACTER.
IN HIS NEW COLLECTION, DREAM CHARACTERIZES A NEW PLAYFULNESS, A NEW FLEXIBILITY OF MOTION AND ADDS NEW FACETS TO HIS OLD NEMESIS. HE NOW SEES TIGERS WITH A REVISED BEAUTY RATHER THAN AN OLD FEAR. AFTER MUCH INTROSPECTION, DREAM HAS PORTRAYED HIS TIGERS WITH A MORE NURTURING AND CHARMING PRESENCE, PERHAPS AS HE TOO WOULD LIKE TO BE SEEN.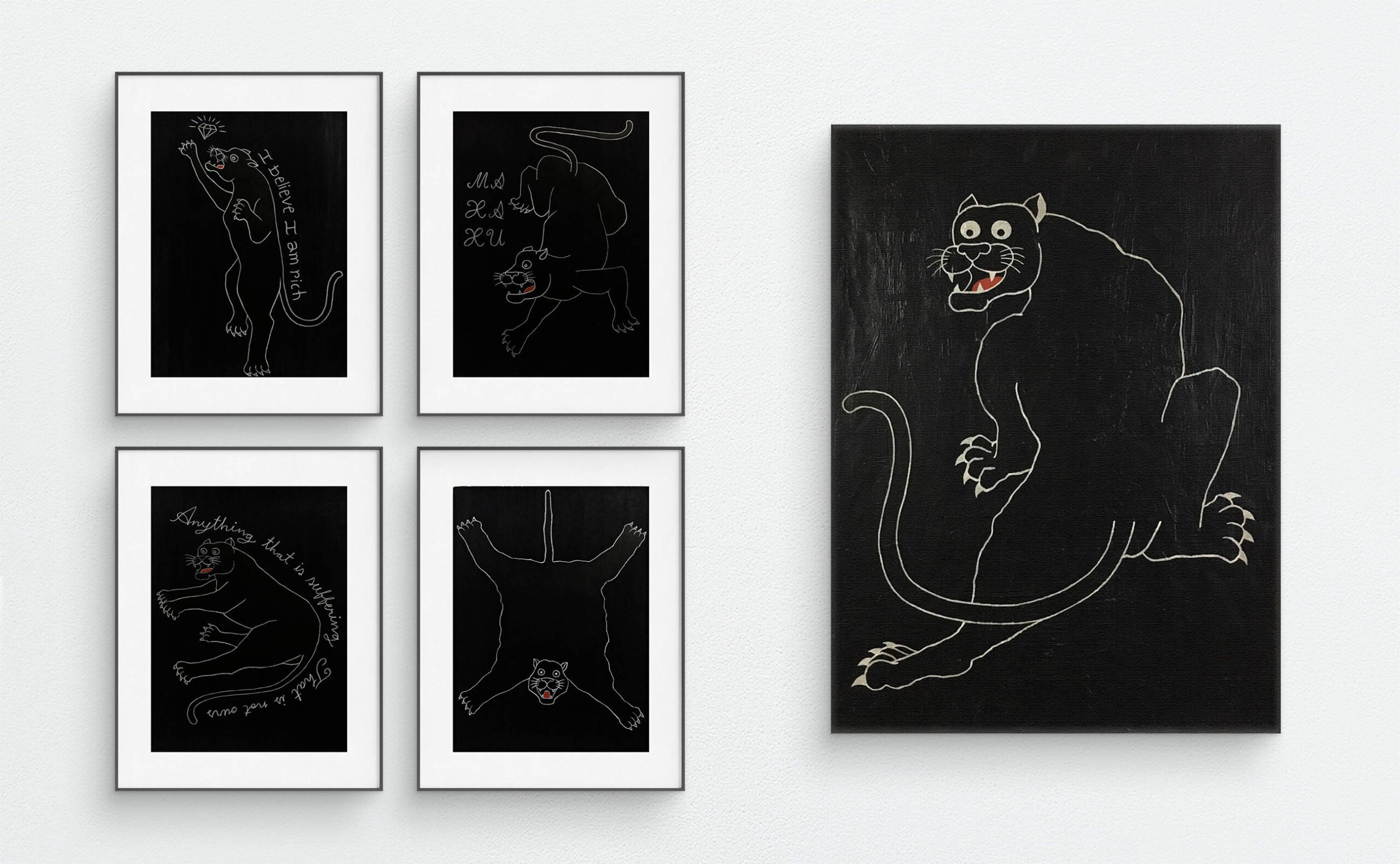 MOST OF DREAM'S "TIGERS" DEPICT HAPPY FACES; TEETH MAY BE BARRED, BUT THEIR SMILE BECOMES YOUR FOCUS — HIS CATS ARE THE PERFECT EMBODIMENT OF ELEGANT POWER. THEY ARE STILL SEEN AS BEAUTIFUL, STRONG CREATURES, BUT HIS PAINTINGS ARE NOT JUST TRANSFORMATIVE, THEY ARE ALSO SYMBOLIC OF LIFE. FOUR OF HIS BLACK AND WHITE OUTLINE PAINTINGS REPRESENT THE FOUR NOBLE TRUTHS WHICH COMPRISE THE ESSENCE OF BUDDHA'S TEACHINGS, THOUGH MUCH IS STILL LEFT UNEXPLAINED. THEY ARE THE TRUTH OF SUFFERING, THE CAUSE OF SUFFERING (ORIGIN OR ARISING), THE END OF SUFFERING, AND THE TRUTH OF THE PATH THAT LEADS TO THE END OF SUFFERING.
SUTTIPONG'S MODERN INTERPRETATION OF HIS BOYHOOD DREAMS AND FANTASIES ARE JOYOUS AND LIGHT HEARTED, BUT HE ALSO LEAVES YOU TO BE INSPIRED BY HIS NEW FOUND LEASE ON LIFE : " STAY POSITIVE, OPTIMISTIC AND KEEP IT SIMPLE."
― Curated by Barbara Lee Fitzsenry